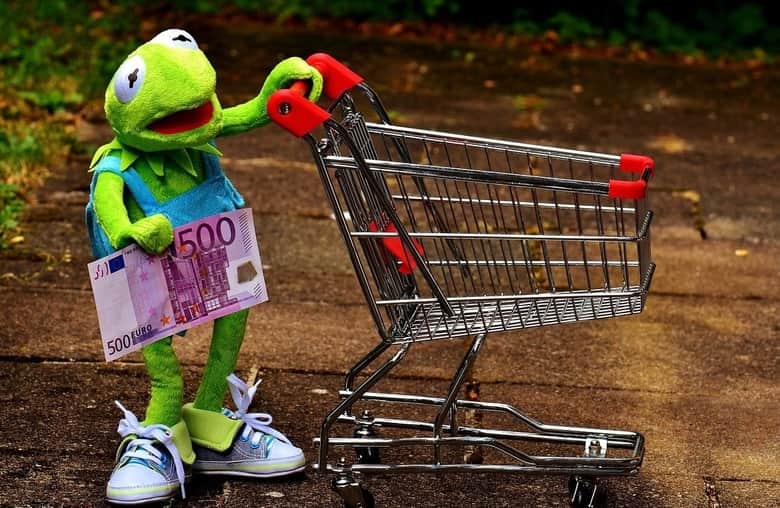 The average crypto investor is always in search of the cheapest cryptocurrencies to invest in.  With the emergence of new coins every month, it can be difficult to know which cheap coins dominate the leaderboard, or for how long they've been around.
In this article, we consider the following:
What are Cheap Cryptocurrencies?
Top 10 Cheap Cryptocurrencies to Watch
Why Invest in Cheap Cryptocurrencies
 Frequently Asked Questions (FAQs) About Cheap Cryptocurrencies
What are Cheap Cryptocurrencies?
Cheap cryptocurrencies are perceived as coins that the value per unit has not exceeded $1. This means that while Bitcoin which trades above $50,000 is considered an expensive cryptocurrency, any coin with a unit selling for less than $1 is a cheap cryptocurrency.
For beginners, it is worth noting that this understanding is fundamentally flawed. You can buy less than 1 BTC, because bitcoin is divisible into small units. If you purchase $10 worth of bitcoin, it may be worth around 0.00001 BTC, but still allows you to profit from any increase in the price of bitcoin. The reason for the smaller units is because bitcoin has a supply of only 21 million coins.
On the other hand, so-called cheap cryptocurrencies often have billions of coins in supply, making their USD value considerably less to bitcoin. This broad supply does not in anyway make the underlying network more valuable than Bitcoin.
With that understanding in mind, let's now take a lot at a list of cheap cryptocurrencies to watch.
Top 10 Cheap Cryptocurrencies to Watch
Stellar is a product of Jed McCaleb Stellar and lawyer Joyce Kim. The coin was introduced after the founder left Ripple in 2013 over disagreements about the company's future.  direction. The project entered the mainstream in 2014 as it recorded its all-time high of $0.93 four years later.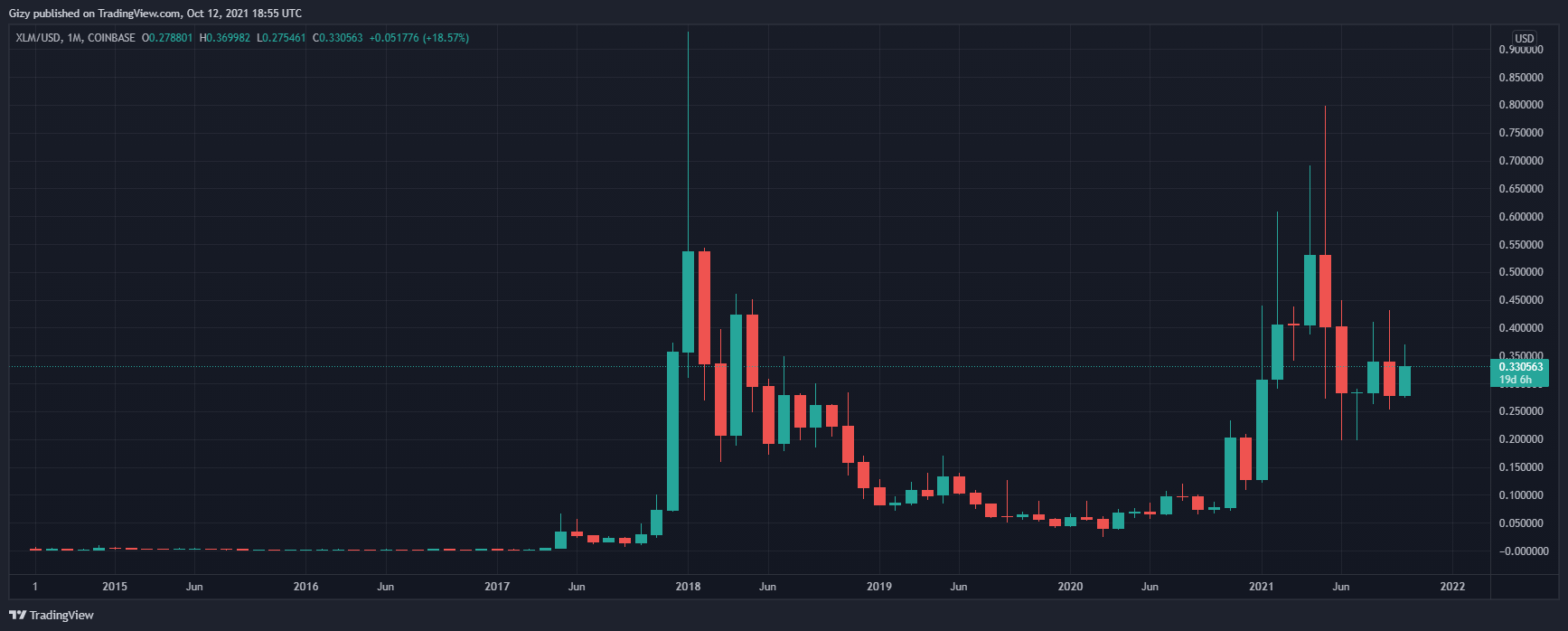 Following its failed attempt at $1 in 2018, several corrections have left the coin at $0.33 as of the time of writing. The project joins the list of cheap cryptocurrencies as it is under the $1 valuation. The ATH has been the reason why many investors are HODLing the coin as they believe it will exceed $0.99 eventually.
Prateek Saxena started working on Zilliqa  in June 2017 and the project testnet went live in March 2018. Zilliqa is a public, free blockchain that is designed to offer high throughput with the ability to complete thousands of transactions per second. The native utility token of Zilliqa, ZIL, is used to process transactions on the network and execute smart contracts.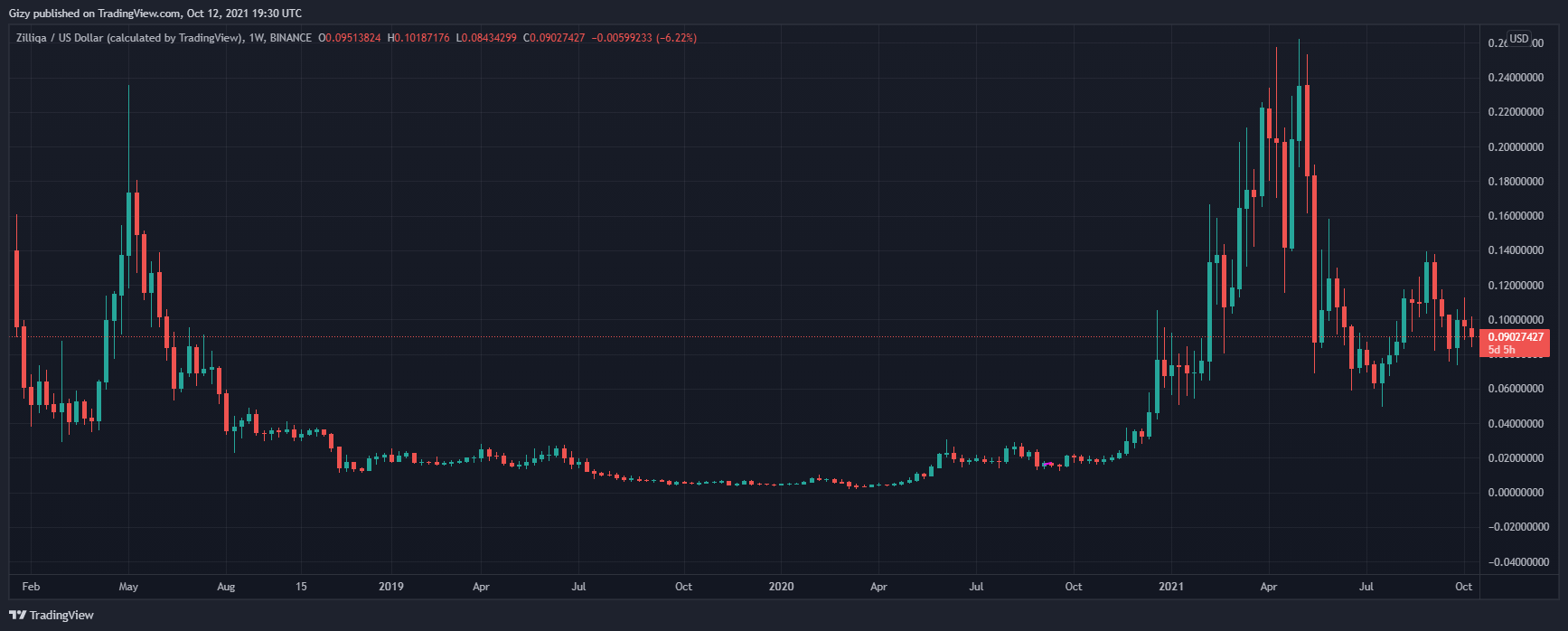 With ZIL trading at $0.09, it is considered a really cheap cryptocurrency. The coin hit an all-time high at $0.25 five months ago. Traders are hopeful of another ATH soon. The goal is to see the project join the list of cryptocurrencies that will explode – exceeding $1.
Chiliz has developed partnerships with some of the biggest sporting institutions in the world: FC Barcelona, Manchester City, Juventus Turin, and Paris Saint-Germain. It also boasts partnerships with the UFC and gaming organizations. By purchasing CHZ, fans get access to various fan tokens and literally have a stake in their club.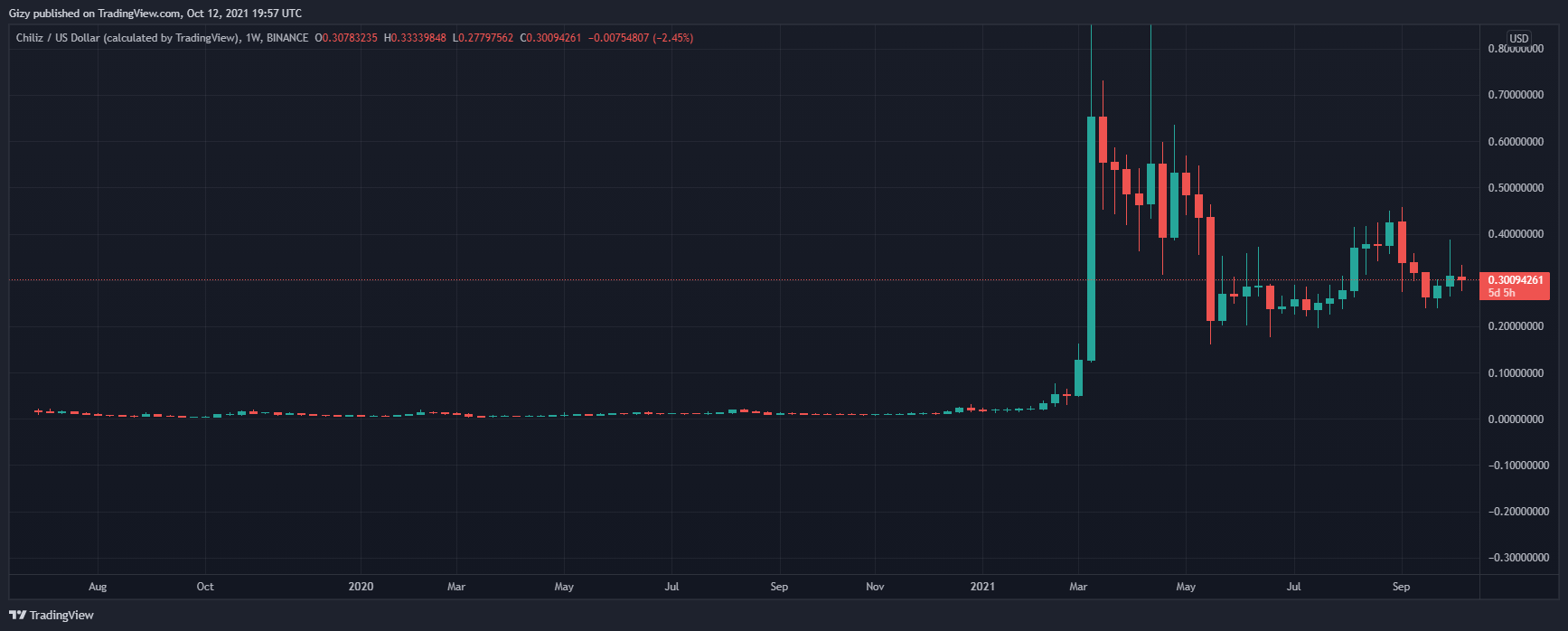 With utilities like that of Chiliz, CHZ is one of the many cryptocurrencies that will explode. The project was founded in 2017 and entered the mainstream in 2019. Seven months ago, the coin was about to escape the list of cheap cryptocurrencies as it rose to an ATH of $0.8. CHZ will surely rise past $1 based on the utility.
Crypto.com Coin (CRO) is a decentralized, open-source blockchain developed by Crypto.com exchange Crypto.com Chain is one of the products in Crypto.com's lineup of solutions designed to accelerate the global adoption of cryptocurrencies as a means of increasing personal control over money, safeguarding user data and protecting users' identities.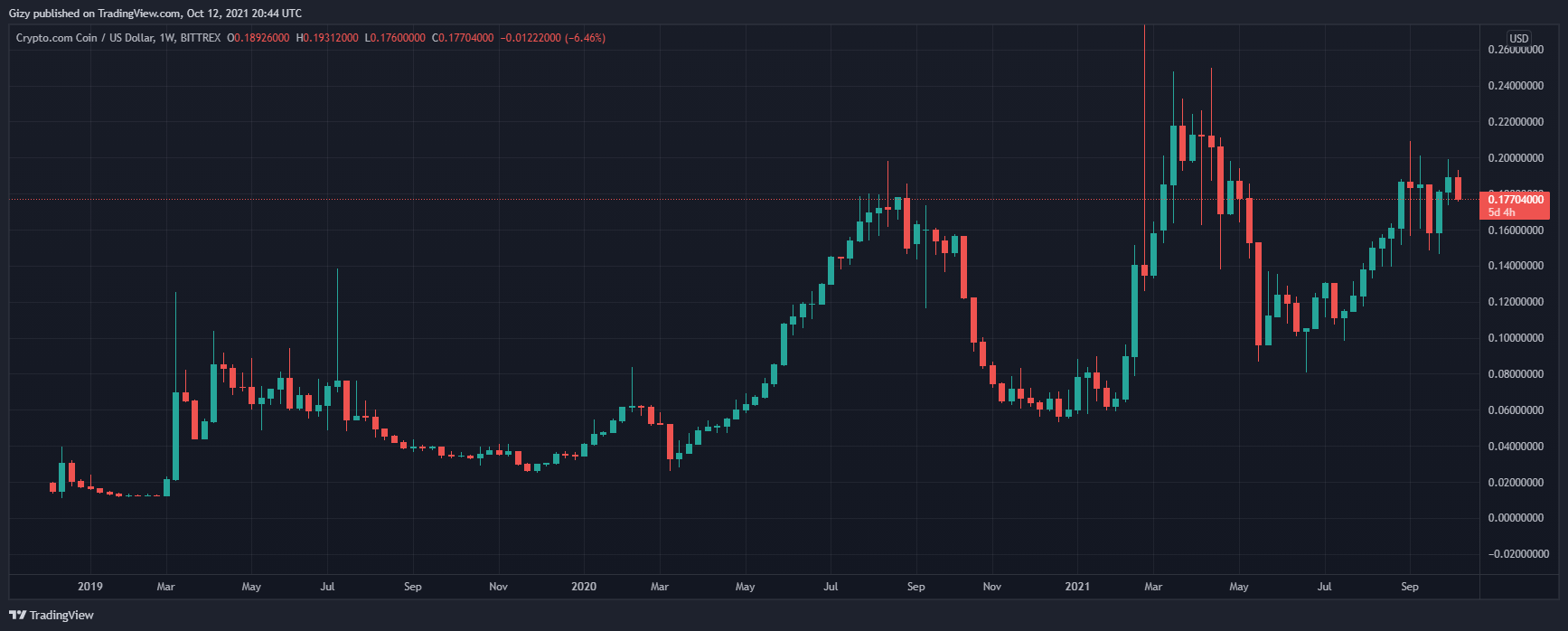 The coin is three years old as its development and introduction to the market happened in 2018. CRO took a step closer to leaving the list of cheap cryptocurrencies as it recorded an ATH of $0.2 eight months ago. We may see more advances in this course in the coming days.
Sunny Lu conceived the idea of boosting the efficiency, traceability and transparency of supply chains while reducing costs and placing more control in the hands of individual users of a blockchain. VeChain was created as a solution and fulfilling Lu's dreams.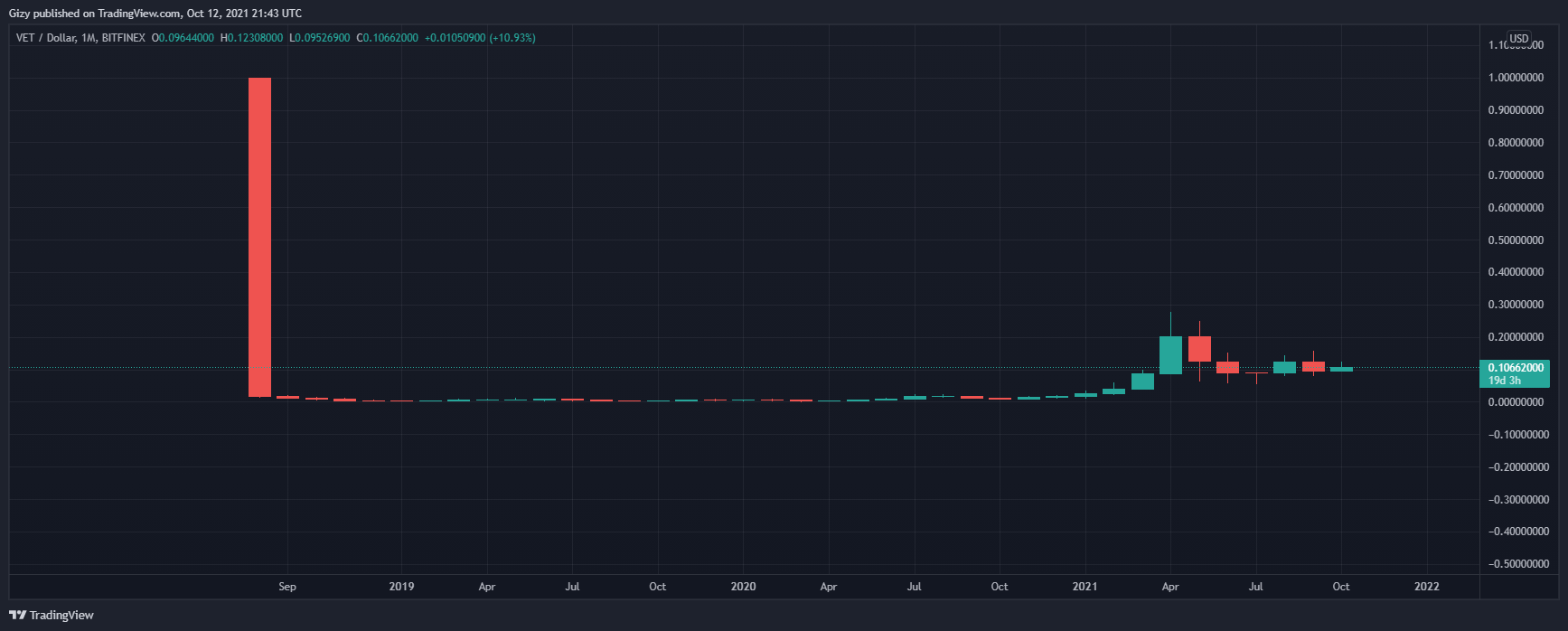 VET was once not a coin that is considered cheap as it was worth more than $1 before its introduction to the market. After entering the mainstream, Vechain lost most of its value as it struggled $0.10 at the time of writing. The cryptocurrency is taking gradual steps towards its return to the $1 mark.
The Tron project initially launched to provide an environment where content creators can connect with their audiences. However, the project has since pivoted from that goal to competing against other blockchains that allow developers to launch decentralized applications (dApps). At this time, the creation of dApps such as those for decentralized finance (DeFi) has turned out to be Tron's primary use case.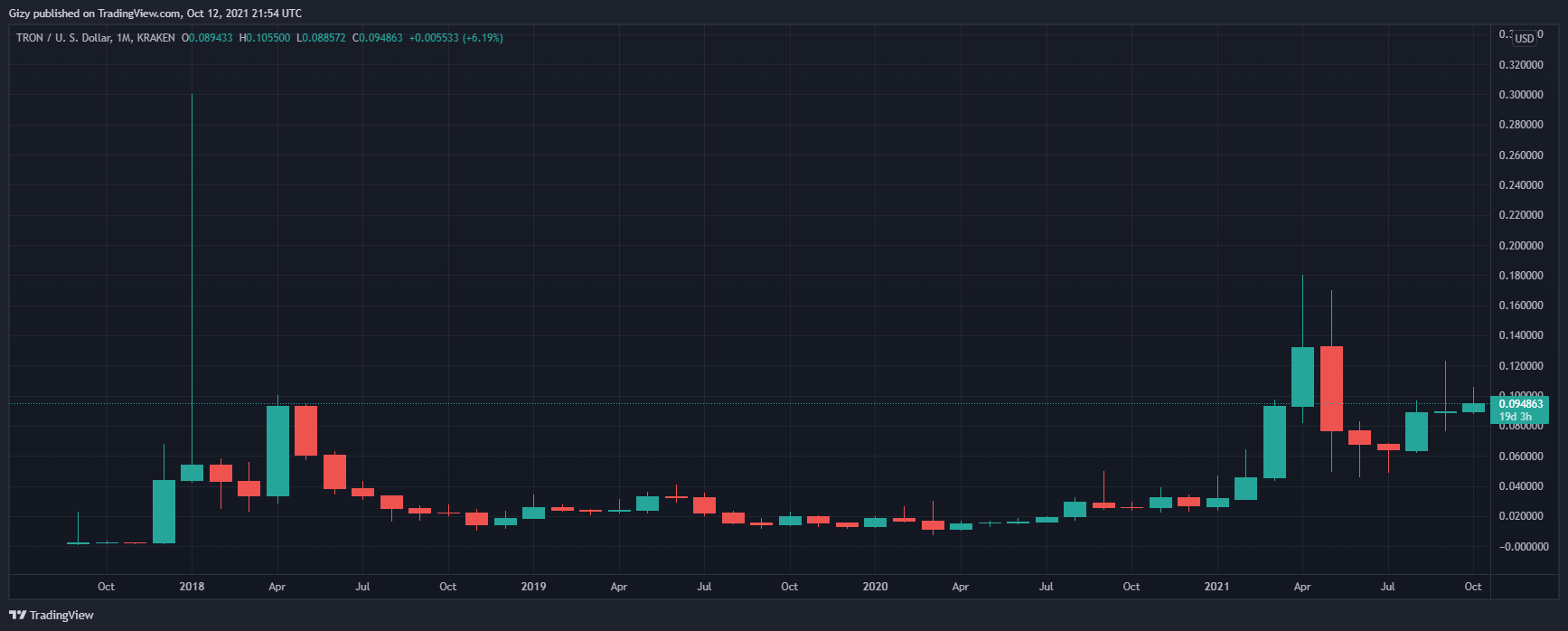 With a circulating volume of more than 71 billion coins and a previous position in the top ten, many Tron holders continue to stack the digital asset with hope that it can go back to its glory days.
Where collateral partitions can be designated to collateralize any account, application, or even transaction, and carry balances which are directly verifiable on the Ethereum blockchain, AMP token plays the role of collateral managers that can lock, release, and redirect collateral in these partitions as needed in order to support value transfer activities. The project is described as a digital collateral token.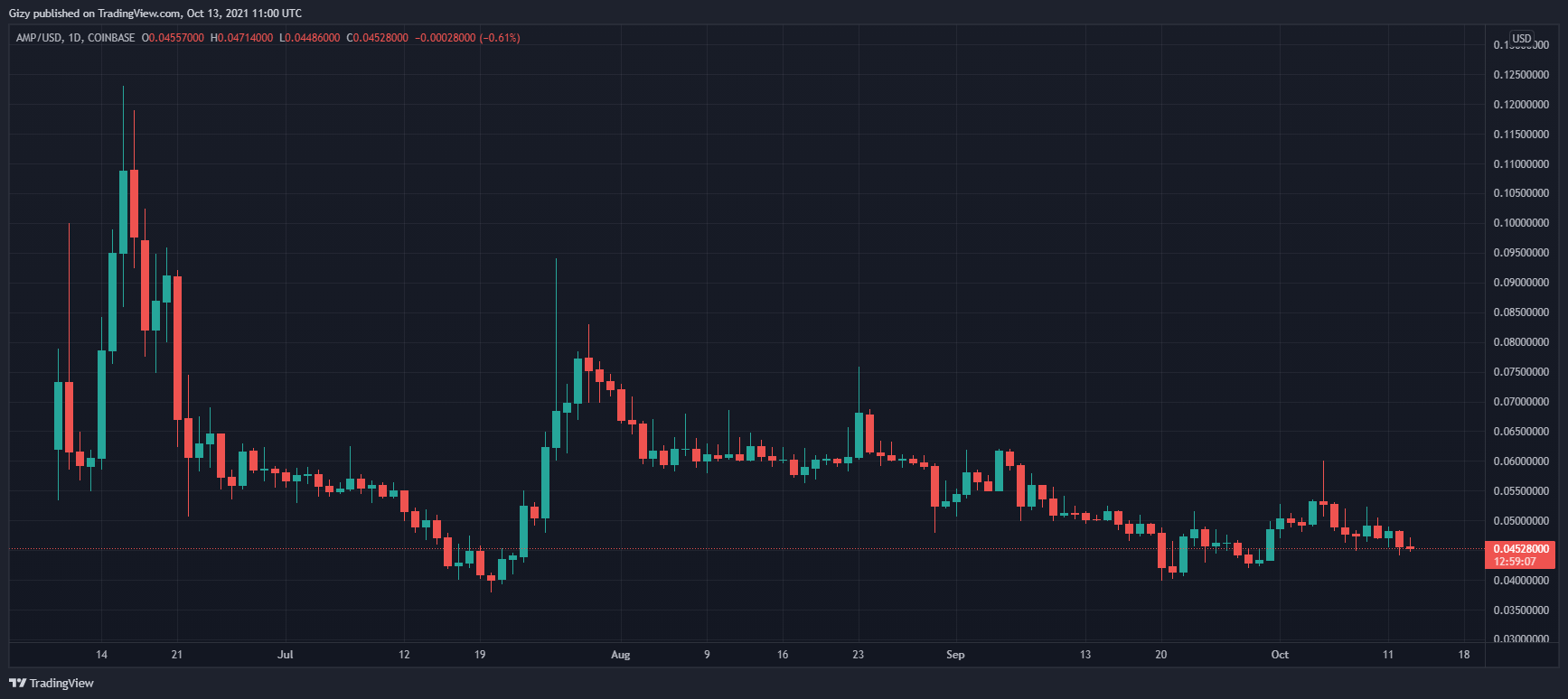 The coin started receiving a lot of attention four months ago as it rose to an all-time of $0.12. I currently hold a spot in the top 100 with a market cap of $1.9 billion as of this time.
BTT is the native token of Bittorent, a popular peer-to-peer (P2P) file sharing and torrent platform which has become increasingly decentralized in recent years. The token was released as one of the new features added to the platform following its purchase by TRON blockchain.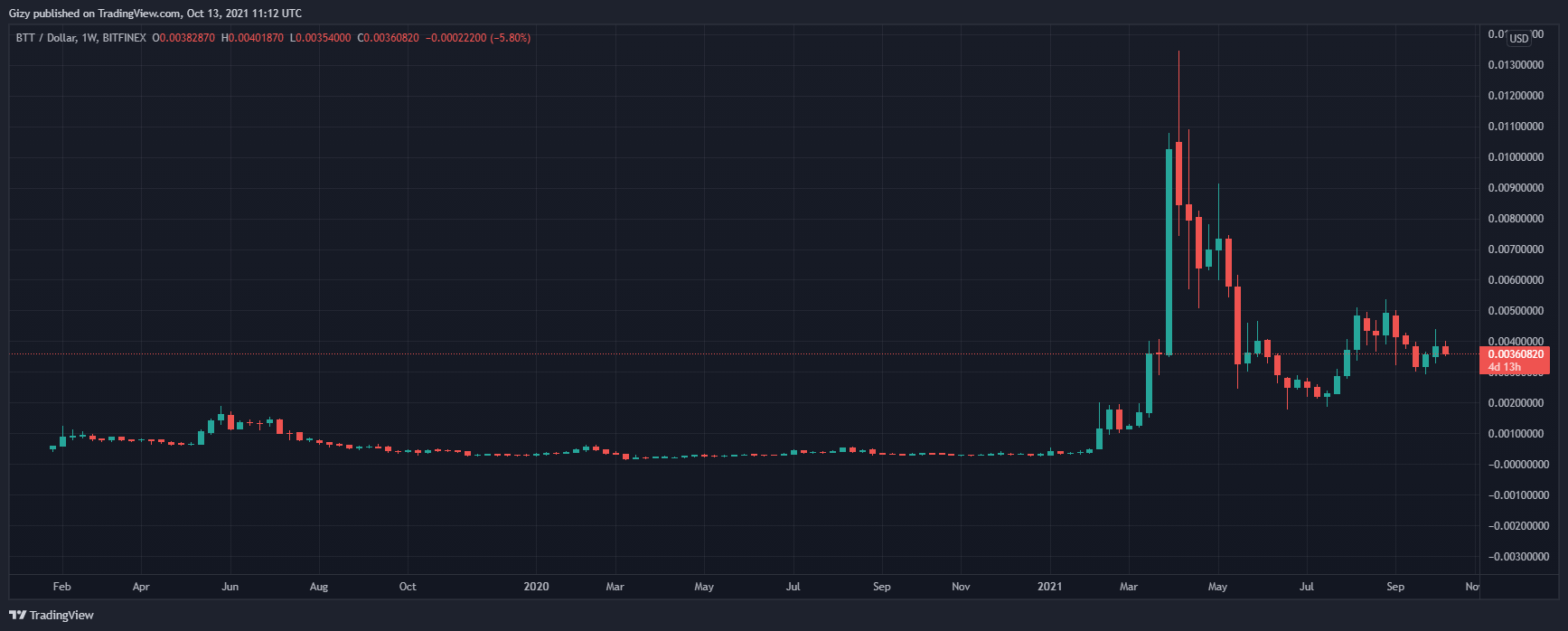 Introduced in 2019, BTT price ranged for a long time before it saw a breakout six months ago – prompting an ATH of  $0.014. The token looks very promising it also has a spot in the top 100s; adding it to the list of cheap coins that will explode.
Dogecoin open-source digital currency was created by Billy Markus from Portland, Oregon and Jackson Palmer from Sydney, Australia, and was forked from Litecoin in December 2013.
The coin grew from being used as a tipping token on Reddit to being a form of exchange for goods and services. Following the massive boom that led the coin to recording an all-time at $0.73 five months ago, many traders are still hopeful that DOGE can exceed $1 soon.
Shiba token creators are anonymous and go by the name Rhyoshi. It is a meme coin like DOGE but is termed the "DOGECOIN KILLER". Launched in August 2020, Shiba Inu has sparked a lot of reaction from traders – racking followers and getting a lot of push from influencers like Elon Musk.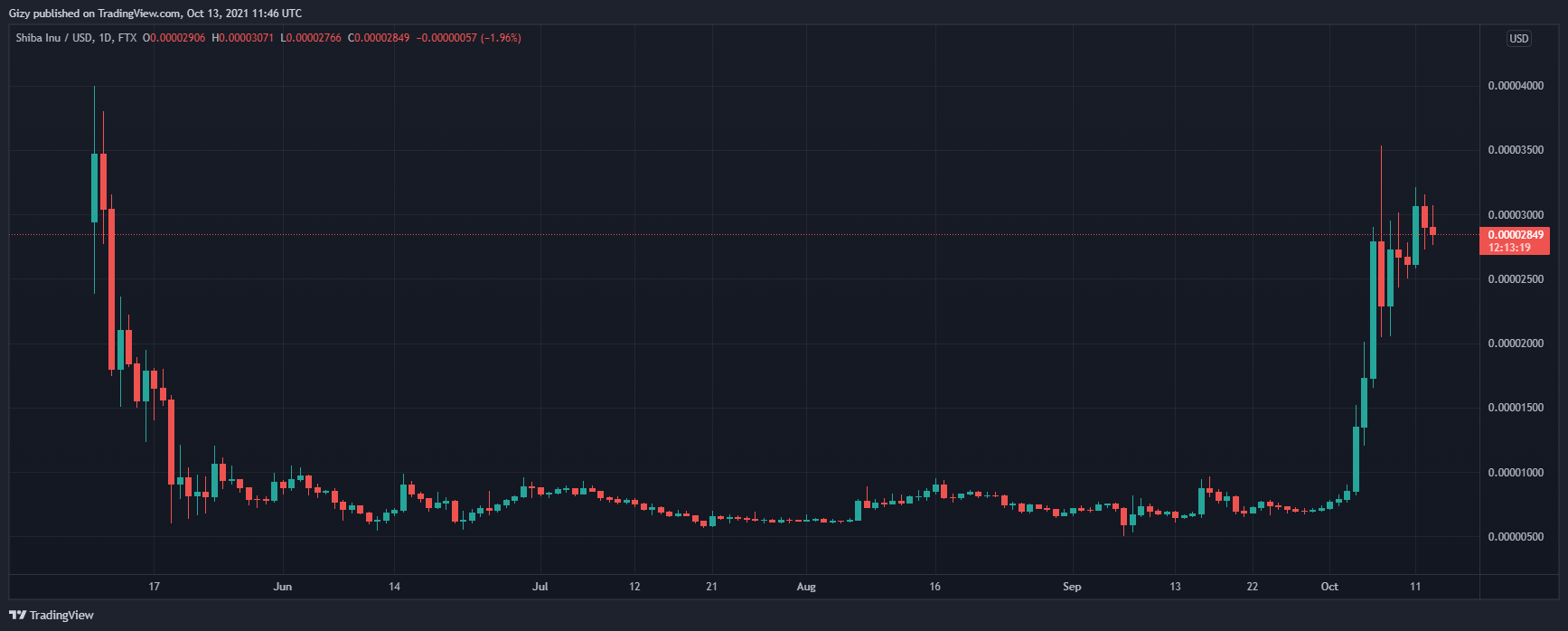 The meme coin piqued the highest number of investors five months ago, leading to an ATH of $0.000038. With a spot in the top 20s, more investors are flocking to the coin as it is seen as one of the many cryptocurrencies that will explode.
Why Invest in Cheap Cryptocurrencies
People invest in cheap cryptocurrencies because they want to own full units of a cryptocurrency, and also earn massive profits if the coin one day exceeds $1. As noted earlier, however, this understanding is fundamentally flawed. Investors must base their decisions on buying a crypto, not on the USD price per unit, but on the value of the underlying network.
Frequently Asked Questions About Cheap Cryptocurrencies
Do cheap cryptocurrencies surge faster than the more valued? 
Many will love to believe they do as they have seen some cryptocurrencies explode by 1,000% and even as high as 1 million percent. However, in this article, we are discussing renowned projects. Recent price movements suggest that both enjoy equal amounts of upswing, although they may not all surge at the same high.
Is it safer to invest in cheap cryptocurrencies?
Cheap cryptocurrencies are often more volatile the more valued, making them more high risk investments. If the price of crypto assets drops significantly, more valued coins are more likely to recover faster than the cheaper cryptocurrencies.
Are These The Cheapest Cryptocurrencies?
The cheapest cryptocurrencies that we considered in this article is the meme coin SHIB which is worth $0.00003. However, there are other cheaper meme coins that SHIB, although these coins often have no use case.
Should I Only Invest in Cheap Cryptocurrencies?
All traders have a strategy they stick to. Some prefer to only invest in cheap coins while others trade every asset. You can decide to invest in cheap cryptocurrencies if you find
What Is The Cheapest Cryptocurrency on Coinbase?
The cheapest coin listed on Coinbase as of the time of writing is SafePanda. It is worth $0.000000000305. Note that this coin is not available for trading on Coinbase. Only the token's price is being tracked by the platform.